Introduction
(My english is not fluent, so, i apologise for all the mistakes you could read below...)
This site is the log book of the restoration of a 1977 Type II Volkswagen. All the stages, from the purchase to the finished project will be treated. Undertaken with a teaching aim (I knew nothing in mechanics there), this restoration was an amusing means to learn automobile mechanics.
I hope that you will find some answers to some of your questions there, and especially the desire and courage to continue your project. This site will make you share my experiment, my errors, my doubts and my joys. This site does not propose a receipt of restoration of combi, but presents just the solutions which I adopted, I do not know if they're the best but these are those that I chose, and they're realizable. All your comments are welcome. ->cyrilfri@gmail.com

I agree completely with the purists who say that it is not a question of a restoration, cause I changed the roof, I used some bolts which are not NOS, and I even took freedom to choose a color which is not in the Volkswagen color charts.
But it is thanks to people who made "true" restorations of the type 2 High roof for the museums and the meetings vintages that I can allow to restore my bus in total freedom, without me to pose problems of historical value or other morals concerns.
But especially with a great respect and the pleasure of learning and of discovering the technical systems used by engineers Volkswagen of thirty years ago.

Kombikini, odd like name of site ? As I practically very dismounted on the combi, one can say that it was almost naked, but not completely, therefore in bikini ! In fact, it was my name on the excellent forum of www.flat4ever.com. And as it is by consulting this Internet site that I began virtually this restoration (before even having a combi!), I kept this name.

News
> 15.09.03 - The combi is glossy.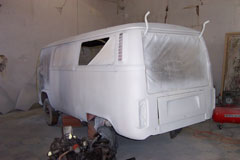 - enlarge -

> Between the 15.09.03 and 20.10.03 - the engine went up, as well as the gear box, the dashboard and the control units.

> 20.10.03 - Starting of the engine! Work is stopped, for lack of means. They will begin again in February 2004 (external painting, reassembly of the windows, the doors, and interior equipment).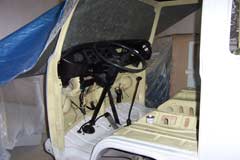 - enlarge -

> 28.01.04 - (Poor !) English version of this website.